Sync Outlook calendar with iPhone
Sync Outlook calendar with iPhone
Outlook and iPhone calendars belong to completely different realms. So what do you do to sync Outlook calendar with iPhone?

The first app that comes to mind when you think about syncing Outlook calendars and contacts is, of course, iTunes. However, we have been astonished to find the following message in the latest update:
Is there any reliable alternative to iTunes in case you don't trust the cloud services?
In this article we will show you how to add Outlook calendar to iPhone and make sure all your data is transferred, including:
appointments,
event details,
event notes, etc.
The first and easiest way is to sync Outlook calendar directly with your iOS device. Your calendar entries appear on iPhone instantly.
In case you need a copy of your Outlook calendar on PC, there is a one more option. First, you will need to export calendar from Outlook as an ICS file, then import it to your iPhone.
So, choose one of the options below:
How to sync Outlook calendar with iPhone – direct transfer
CopyTrans Contacts can import calendars directly: you simply add Outlook calendar to the iPhone default Calendar app. It works for all iOS devices such as iPhone 12, iPad Pro, or iPod touch.
To sync Outlook calendar with iPhone, download and install CopyTrans Contacts from the following page:
If you need help installing CopyTrans Contacts, please refer to the installation guide.
Run CopyTrans Contacts and connect your iPhone, iPad or iPod Touch to which you want to add the Outlook calendar. Wait until the program loads your data on every tab.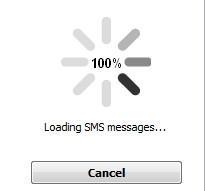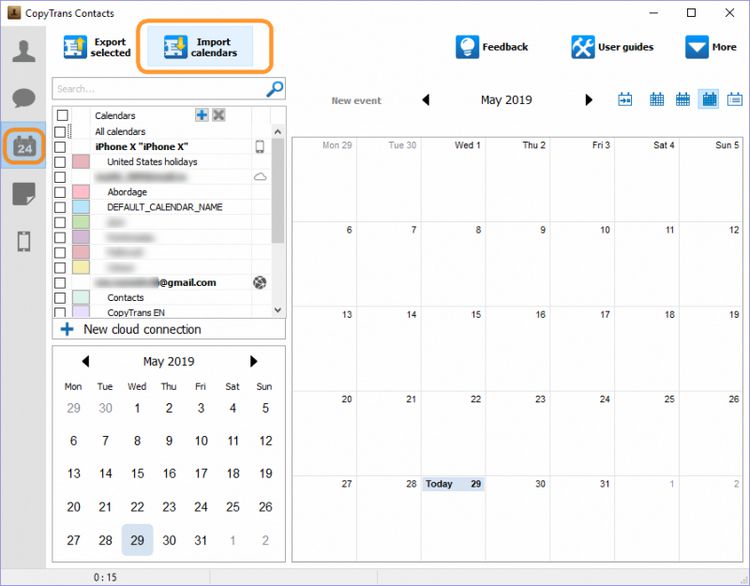 In the main program window, click on the Calendar button on the left, then click "Import calendars".

A new window will open. Click on "Outlook (direct import from Outlook)".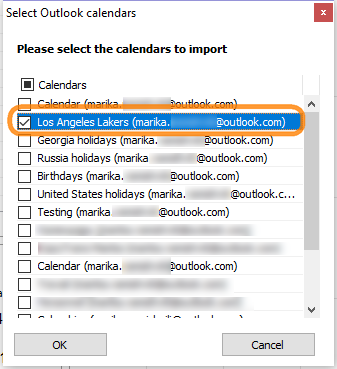 Now select the Outlook calendar you wish to sync with your iPhone and click OK.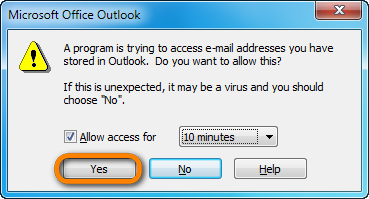 If prompted by Outlook, grant CopyTrans Contacts access by selecting the time period (1-10 minutes) and click on "Yes".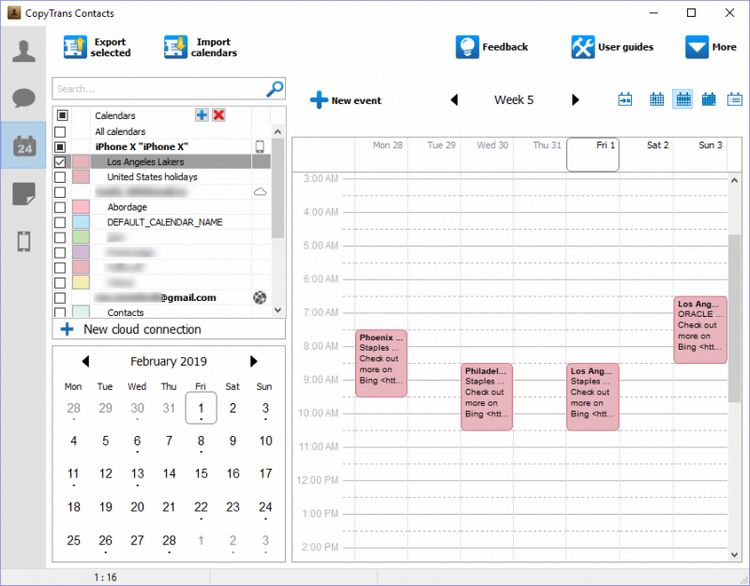 The Outlook calendar is successfully added to your iPhone!
NOTE: Make sure to enable Time Zone Support for calendars on your iPhone, iPad, or iPod Touch. This way, you will preserve the event timings of your Outlook calendar.
To enable Time Zone Support, please refer to the Apple article about changing your calendar time zone.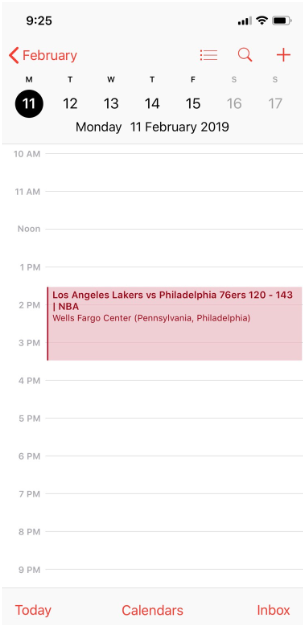 This is how to sync Outlook calendar with iPhone!
How to export Outlook calendar to iPhone | YouTube tutorial
How to export Outlook calendar to iPhone – 2-step transfer
This option is for those who want to save a copy of Outlook calendar on PC before syncing. Those who faced the issue of Outlook calendar not syncing with iPhone will also find it helpful.
Export Outlook calendar
Run Outlook on your PC.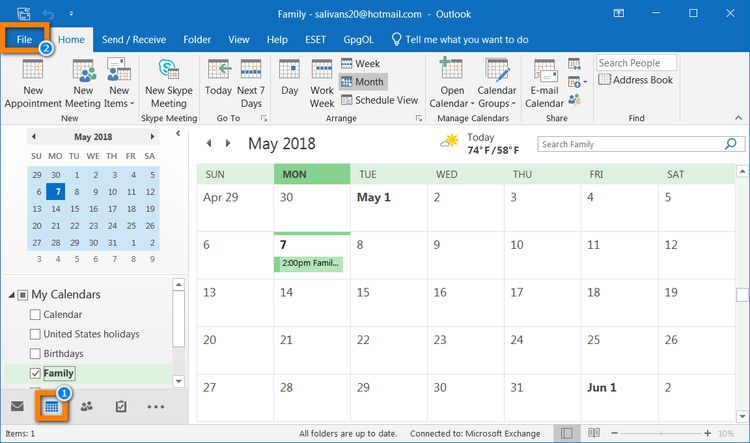 Navigate to Calendar by clicking on the respective tab at the bottom, then click on the File tab at the top.
Now choose Save Calendar.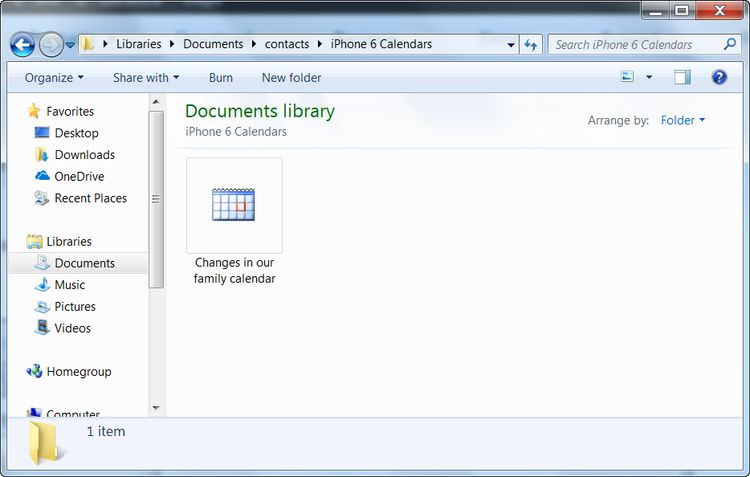 To export Outlook calendar, choose the destination folder on your computer and click on "Save".
Add Outlook calendar to iPhone
Download CopyTrans Contacts from the following page:
Download CopyTrans Contacts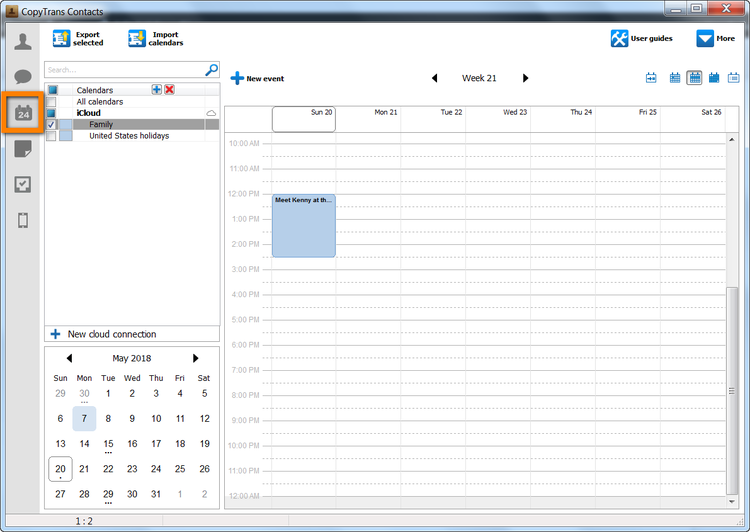 Run the program and let your iPhone data load. Then click on the Calendar icon on the left-hand side of the main program window.
Next, click on the "Import calendars" button and then click on "From a file" to choose saved Outlook calendar.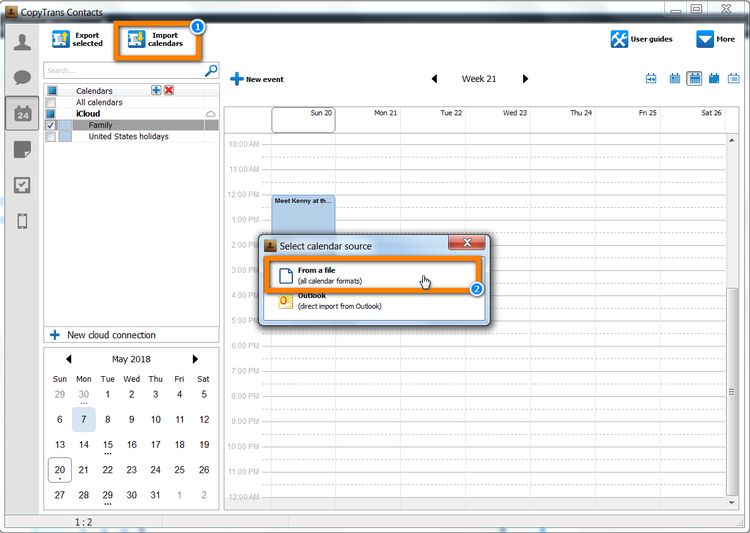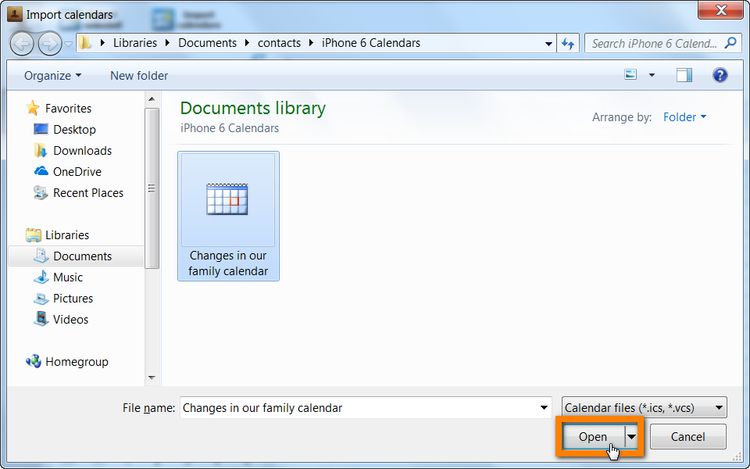 Select your previously saved calendar and click Open.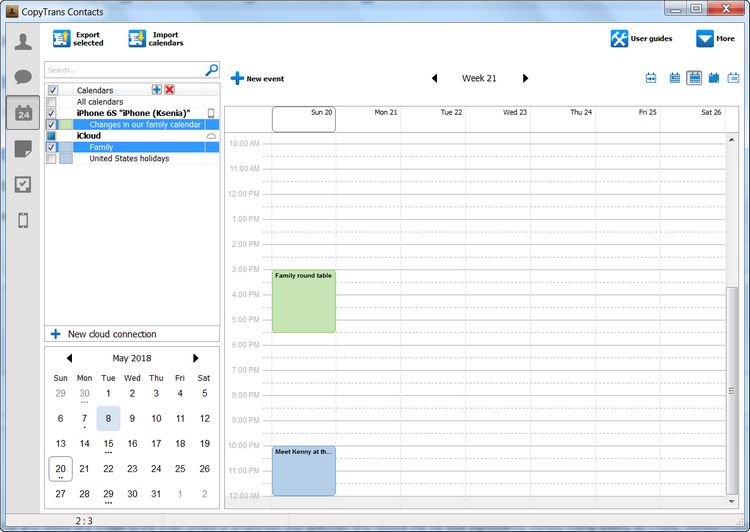 Your Outlook calendar will now be transferred to your iPhone.
This is how to export Outlook calendar to your iPhone!
Related articles
How to import Outlook contacts to iPhone
How to transfer Outlook notes to iPhone
How to transfer iPhone calendar to Outlook
Krasimir is an avid marketing aficionado and a tech-support specialist in charge of the English-speaking market. He grew up in Bulgaria and on the island of Mauritius where he became passionate about windsurfing and photography.
How to Fix It When Your iPhone Calendar Is Not Syncing With Outlook
Sometimes you can have too many calendars on your iPhone
An iPhone calendar not syncing with an Outlook calendar is a common problem experienced by many users. It can also occur with other iOS devices like an iPod touch or iPad.
Sometimes events entered into the iOS Calendar app don't appear in the correct Outlook calendar while at other times an Outlook calendar on iPhone may be missing important data.
Fortunately, there are a variety of strategies for dealing with this annoying bug.
Causes of Outlook Calendar Not Syncing With iPhone
Some of the most-common causes of iPhone calendar events not syncing to Outlook properly include:
The incorrect calendar being selected when creating an event.
Data not syncing to the server properly.
An Outlook account not being connected to an iPhone.
The iOS default calendar being incorrectly configured.
How to Fix iPhone and Outlook Calendar Syncing Problems
Here are all of the proven strategies for fixing iPhone Outlook calendar sync issues listed from most-common and easiest to least-common and more time consuming. It's recommended to work through these solutions in order to effectively pinpoint the cause and correct it.
Change to Wi-Fi. For iPhone and Outlook calendars to sync properly, the data needs to be sent to the online servers, then re-downloaded to the other device. Data syncing can be delayed when your iPhone is on a cellular connection to save data so try to connect to a Wi-Fi signal and see if that works.
Disable Airplane mode. If you've had Airplane Mode turned on while watching a movie or during a flight, none of your data will sync properly, as your iPhone will be unable to connect to the relevant online servers. Check to see if Airplane Mode has been turned on, disable it if it has, connect to a cellular or Wi-Fi signal, and wait a few minutes.
Turn off Low Power Mode. When your iPhone battery gets low, Low Power Mode is activated. This mode disables most background activity including downloads and data syncing between services.
Charging your iPhone usually disables this mode automatically but you can also manually turn it off. Go to Settings > Battery and tap the Low Power Mode toggle switch.
Close all of your apps. Sometimes apps on iPhone can get glitchy and the best way to fix them when this happens is to close them completely and then open them again.
Minimizing an app on iOS or switching to another app doesn't mean you've closed the previous app. To close an app fully, perform a long swipe from the bottom of the screen to the top to pull up all of the open apps, then swipe down on each app to close them.
Restart your iPhone. Restarting a device to get it to work properly is a bit of a cliché but it works.
Simply pressing the power button on an iPhone just puts it to sleep. This isn't a restart. To restart an iPhone you need to shut it down completely, then turn it back on.
Install the latest Outlook app updates. App updates frequently contain fixes for problems such as the Outlook calendar not syncing properly. Sometimes they're even required to make sure that apps work properly with new iOS operating system updates.
To quickly check for app updates, open the App Store on your iPhone, tap Updates, then drag the list of apps down and release your finger.
Ensure you're logged into the correct Outlook account on your iPhone. Go to Settings > Passwords and Accounts. If Outlook isn't present on the list of accounts, tap Add Account to add it.
Check your Outlook permissions. Even if you're logged in properly with Outlook, you may not have granted the service full access on your iPhone. Go to Settings > Passwords and Accounts > Outlook and make sure the Calendars toggle switch is turned on.
Check your iPhone's default calendar. Go to Settings > Calendar > Default Calendar. You may have several calendars listed here, including a few Outlook ones. The calendar with the check next to it is the one where new events created on your iPhone will be placed. Make sure your preferred Outlook calendar is the one checked.
Make sure you're using the correct calendar in the iOS Calendar app. If you're having trouble with your iPhone calendar not syncing with Exchange or Outlook, you may want to double-check how you're making new entries within the iOS Calendar app.
When creating a new event, tap Calendar to make sure your Outlook calendar's name is checked. You may have been saving events to the wrong calendar.
Perform a manual iTunes sync. If you have the latest versions of iOS and Outlook installed on your iPhone, calendar data should be syncing via the cloud in the background.
If you've tried all of the tips mentioned above and nothing's worked, you may want to try a sync via iTunes. First, connect your iPhone to your computer via its cable, open iTunes on your computer, then select Devices > iPhone > Info > Calendars > Sync calendars from > Outlook > All calendars > Apply.
How to Sync Outlook Calendar with iPhone: Top 3 Recommended Options
Outlook is an integral multi-platform based work suite email service for users to manage and sync calendars, emails, and contacts between devices efficiently. However, as the complaint in the user question above, you may still in the dark in regard to setting Outlook Calendar with your iPhone 8, iPhone 6, iPhone 11 or more models. Don't worry, here we will demystify the procedure for you with details of how to sync Outlook calendar with iPhone.
Option 1: How to Sync Outlook Calendar with iPhone via iCloud
iCloud is an Apple's web-based cloud storage solution that allows users to back up their iPhone data, e.g. calendars, notes, photos, videos and contacts. If you can't share outlook calendar with iPhone via iTunes, iCloud should be your go-to solution, but you must correctly set it up. Syncing Outlook calendar with iPhone wirelessly is just as simple as the below procedure.
Download, install and run iCloud for Windows from Apple's official site.
Input your Apple ID and password.
When setting it up, ensure you have selected Mail, Contacts, Calendars and Tasks. It's the third option in the interface.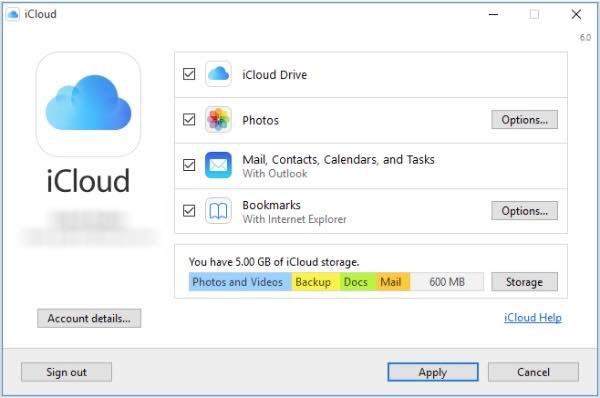 If You Get an Error Message «Repair iCloud for Windows to use iCloud with Outlook»:
Simply try one of the following options:
Sign out your iCloud and then reinstall it.
Make sure that the iCloud Outlook Add-in is active in Outlook from File menu > Options > Add-Ins > select iCloud Outlook Add-in.
Reinstall Outlook
Option 2: Add Outlook Calendar to iPhone Mail App
iPhone Mail app makes it possible to manage your email and calendar easily. If the two methods above don't work, we recommend adding Outlook Calendar to your iPhone Mail app by following the procedure below.
Go to Settings > Passwords & Accounts > Add Account, then tap Outlook.com on the upcoming list.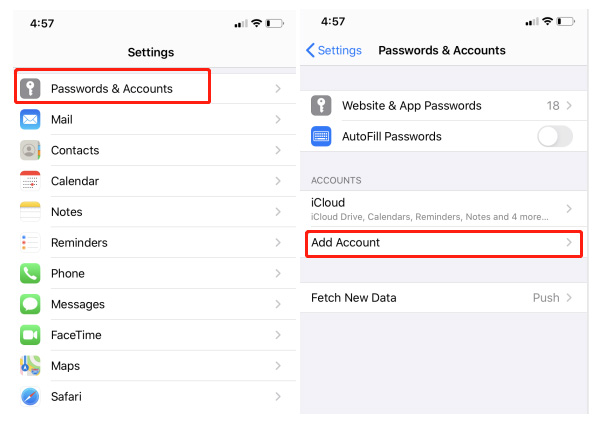 Enter your outlook.com credentials i.e. user name and password, then tap Next.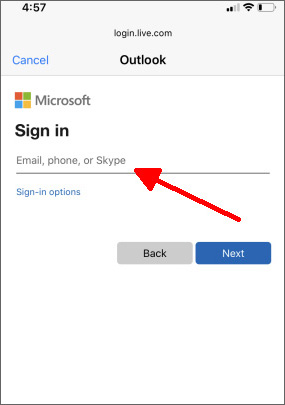 Give the permission to your app to sync your files.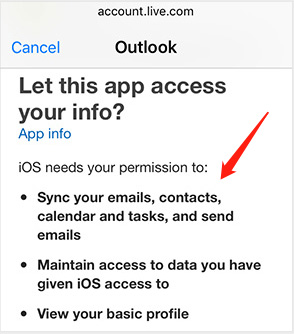 Toggle on the Calendars button along with other options you prefer like Mail, Contacts and Reminders.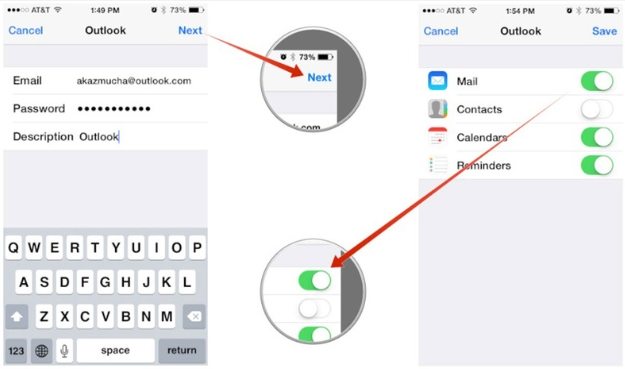 Option 3: Transfer Outlook Calendar with iPhone via iTunes
iTunes is great for users to manage their Apple devices with plenty of functions, such as backing up and restoring when encountering software issues. Adding Outlook calendar to your iPhone is no more easier than the following procedures.
Connect your iPhone to your computer by using the OEM USB cable. If iTunes doesn't run automatically, click the icon in the start menu (Windows) or Launchpad (Mac).
Under devices on the left pane of iTunes' interface, click your iPhone and click the Info tab.
Under Calendar, click Sync calendars with, and then select Outlook.
You can either choose to synchronize all calendars, or click the Selected calendars option. Once done click Apply.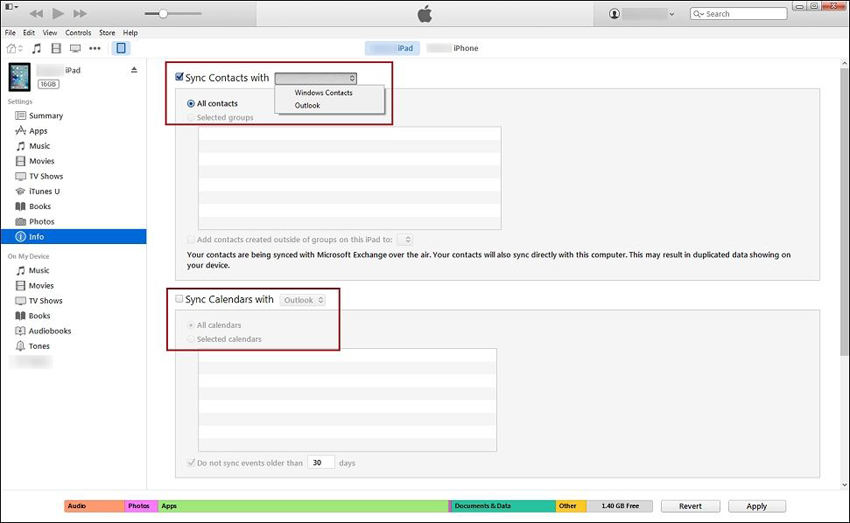 What If My Outlook Calendar not Syncing with iPhone:
Make sure that you have done one of the below operations:
Update the version of your Outlook, iTunes, iOS to the latest one.
Ensure that you correctly configure iTunes to synchronize your iPhone with Outlook.
Reset the sync history from the Preferences > Devices in iTunes.
Reinstall Apple Mobile Support, iTunes and Outlook to repair a corrupt installation
If the issue is caused by iPhone OS, using an iOS system repair tool like ReiBoot to completely repair your iPhone.
Extra Tip: How to Recover Disappeared Outlook Calendar on iPhone
Now you know how to sync outlook calendar with iPhone conveniently, but the complaint from iPhone users regarding the disappeared calendars has been witnessed. Of course, you can recover them directly from iTunes and iCloud backups, but the downside is you can't preview and selectively restore the calendar. What even worse, your iPhone data could be erased completely.
So you may wondering what to do? The recommendation here is using a more secured data recovery tool such as the Tenorshare UltData for iPhone. Therefore, all of your disappeared calendars and other types of data like contacts, photos, WhatsApp messages, and videos would come back without erasing your devices. Here is the procedure.
Connect your iPhone to your computer by using a USB cable.
Choose the file type «Calendar» and click botton «Start Scan» to continue.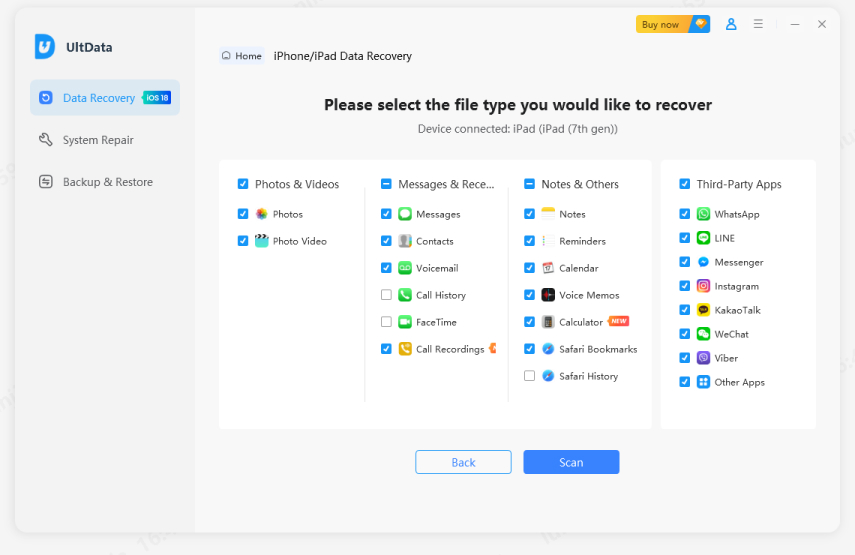 All the data associated with your calendar will be displayed on the left panel of the interface.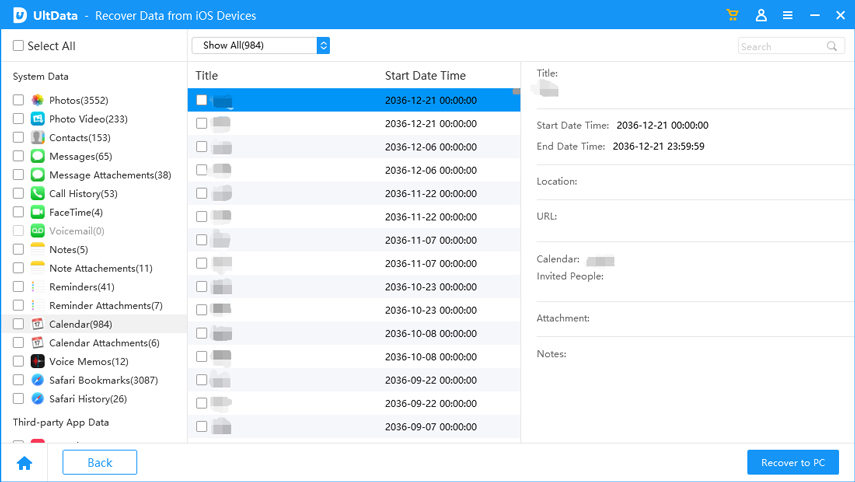 People Also Ask: Re-sync and Merge Outlook Calendar
«Should I re-sync every time aftering creating a new Outlook calendar event?»
You don't need to do so if you have logged in with the same Outlook account. All changes will be synced in seconds to all of your devices.
«Is it possible for me to merge Outlook calendar with iPhone calendar?»
Of course, simply click the Info tab to check out more info. Drop a check mark in the Sync Calendars with check box, select the related pull-down menu, and then choose Outlook. Finally, you should click the Apply button.
«What if I still can't sync my Outlook calendar with iPhone after trying all the above options?»
You should check out the Microsoft Service Health page for more information about your server status. If you use Outlook for commercial purposes, then you need to contact your company server provider.
Conclusion
Today we have checked out how to sync Outlook calendar with iPhone 8 or more models. In this guide we recommended 3 options and one more tip for your to easily recovery Outlook calendar. Now feel free to have a try for the Tenorshare UltData for iPhone! If you have any more comments or your own preferred ways to fix the problem, just leave it right down this guide.
How to Sync Outlook Calendar With iPhone
Discover How To Transfer Calendars Between Microsoft Outlook And Your iPhone
Last Updated : 19th January 2021 | Author: Wide Angle Software Dev Team

Introduction
Microsoft Outlook offers an easy way to manage your emails, calendars and contacts, all in one place. If you're also using iCloud and Google, which can also manage info like contacts, email and calendars, you may want to consolidate all this information.
This article provides info on how to add Outlook calendars to your iPhone, how to add calendars from your iPhone to Outlook, and even how to add an iCloud calendar to Outlook!
You can jump to each method using the links below:
How to Add Outlook Calendars to iPhone
Three Ways to Add Outlook Calendars To Your iPhone
Method 1: Add Outlook Calendar to iPhone with iTunes
If iTunes is your go-to place to manage your iPhone, this method is perfect for you. Let's see how to add a calendar from Outlook to your iPhone with iTunes.
Connect your iPhone to your computer with your USB cable.
If iTunes doesn't open automatically, launch it.
Click your device icon and open the «Info» tab.
Check «Sync Calendars with» and select Outlook from the dropdown menu.
Choose to sync all calendars, or only selected calendars using the settings provided.
Click Apply to start syncing your calendars with your iPhone.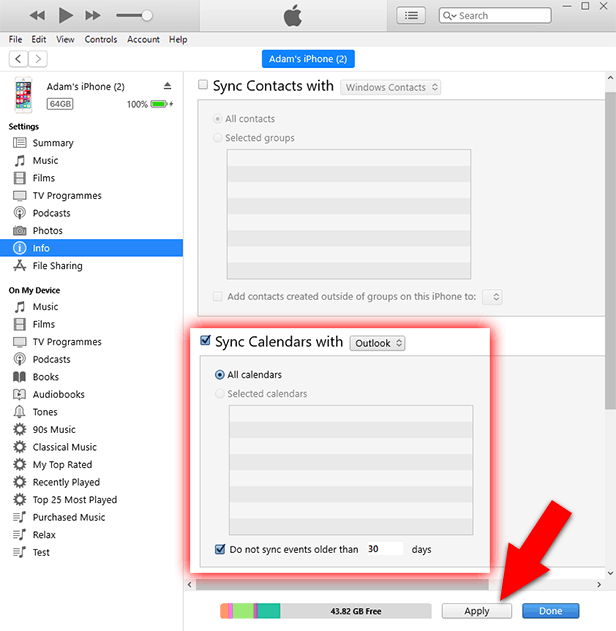 As you can see from the above image, you also get the option to only sync your recent and future calendar events. Rather than filling your calendar with past events that you won't need anymore.
Consider that iCloud must be disabled for iTunes calendar syncing to work. On your iPhone, go to «Settings» > Your username > «iCloud» and disable iCloud for the Calendars app. Connect the iPhone to your computer, open iTunes and click on your device icon. Click on the Info tab in iTunes and check «Sync Calendars», select your calendar management program and click on the «Sync» button.
Method 2: Add Outlook Calendar to iPhone with iCloud
iCloud is Apple's answer to cloud storage. You can use iCloud to easily sync data between all your devices which use your Apple ID. As such, you can ensure that your contacts and calendars are always up to date and even have access to all your photos on all your devices.
How does iCloud work? Your files are stored online in iCloud, and your devices can access those files if they're connected to the internet and if they have permissions (if they use your Apple ID). You can even use iCloud to save storage space on your iPhone!
If you're using Mac and you are set up with the same Apple ID that you use on your iPhone, this should already be set up for you.
How to Add iCloud Calendar to Outlook? Here's how to sync your Outlook calendar with your iPhone using iCloud for Windows:
.
Enter you Apple ID and password.
Select what you'd like to sync (ensure that «Mail, Contacts, Calendar and Tasks» is checked).
Click Apply to complete the process.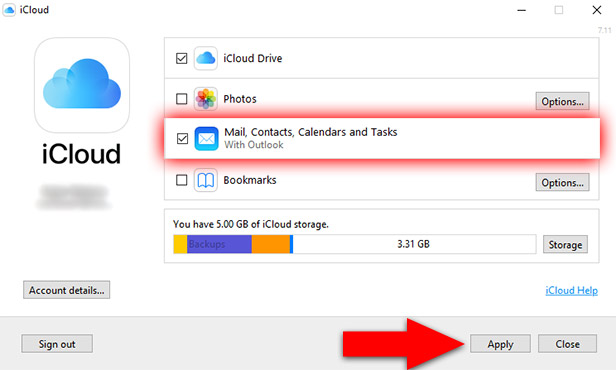 Now, whenever you add a new calendar event in iCloud, it also appears in Outlook and on your iOS devices — and vice versa.
Method 3: Add Outlook Calendar to iPhone with iPhone Mail App
You can also add your Outlook account to your iPhone using your iPhone itself! This way, you can choose what Outlook information you would like to sync with your iPhone (Emails, Contacts, Calendars and Reminders). Let's see how:
Open Settings on your iPhone.
Tap «Passwords & Accounts».
Tap «Add Account» > Outlook.com
Enter your username and password for your Outlook account.
When prompted, give the app permissions to sync your data.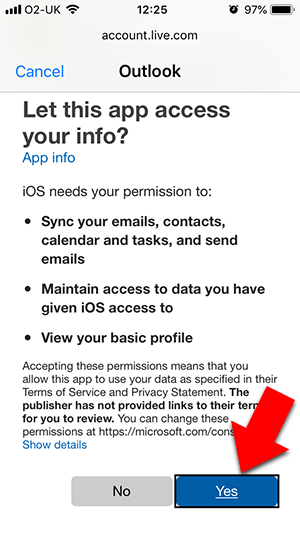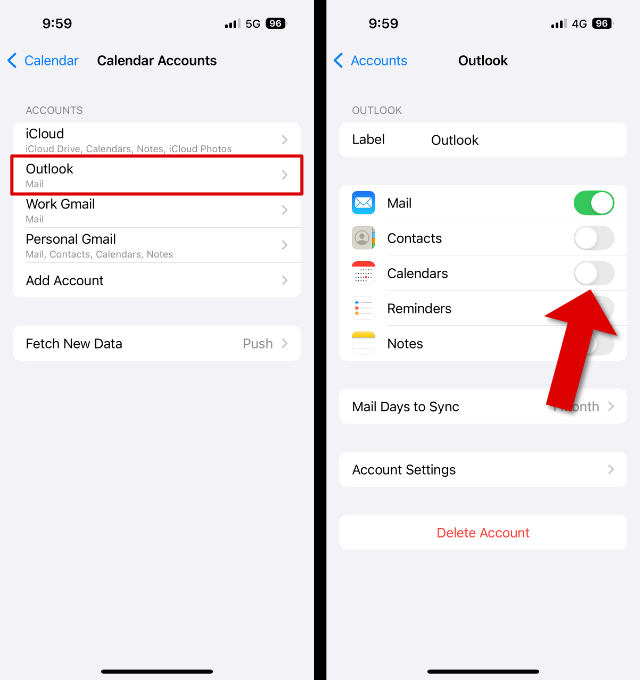 You may be prompted at this point to decide if you'd like to keep existing calendar events on your iPhone, in which case you may end up with duplicate events on your calendar.
How To Add iPhone Calendar to Outlook
This final option is for those who wish to backup calendars from their iPhone to their computer.
To do this, you'll need a tool like TouchCopy. TouchCopy can copy any kind of data from your iPhone to your computer — a feature which iTunes does not provide.
Let's see how we can use the popular TouchCopy tool to export iPhone calendars to Outlook on your computer:
Download and install TouchCopy on your PC or Mac.
Launch TouchCopy and connect your iPhone with your USB cable.
Click «Calendars».
Hit «Copy as vCard» (PC) or «Copy to Mac» (Mac).
Choose a save location.
Select the calendars you wish to save.
Try TouchCopy free ▼
Receive an email with a link so you can download the free trial on your computer:
Note: We respect your privacy. We won't share your Email address with anyone else, or send you spam.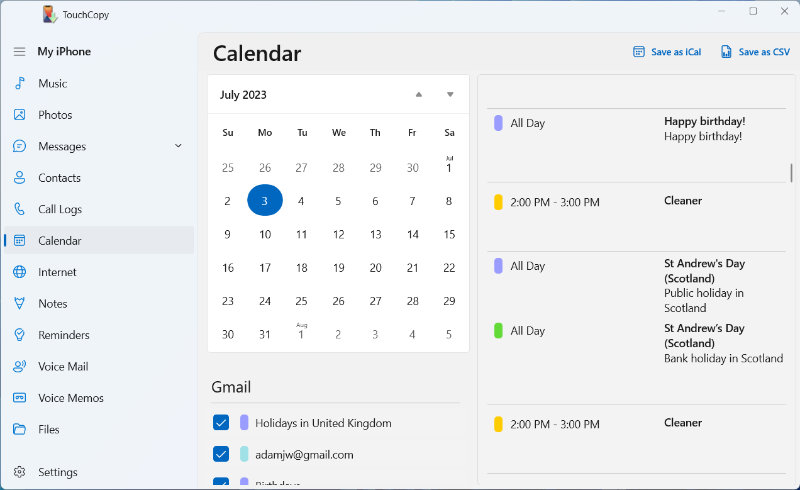 You can then import your copied calendars to Outlook. To do this, open Outlook on your computer, click File > Open & Export > Import & Export > Import an iCalendar (.ics) or vCalendar file (.vcs) > Next.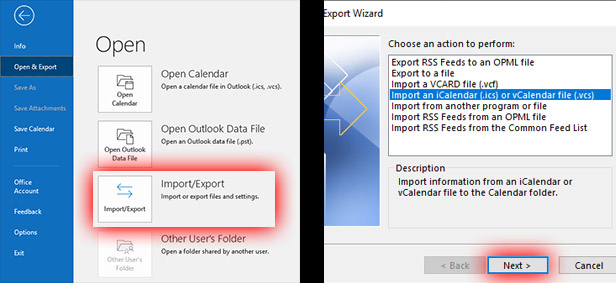 Now when looking for your saved calendars, ensure that you are searching for the correct format (vCalendar format for Windows or iCalendar for Mac). Select a calendar you want Outlook to import, then hit OK.
Finally, choose whether you want Outlook to import the saved file as a new calendar, or to merge it into your existing calendar.

You should now have all the knowledge you need to effectively manage your calendars. Thanks for reading!