Как синхронизировать Календарь Google с вашим iPhone-сообществом
Как синхронизировать Календарь Google с вашим iPhone-сообществом
Приложение iOS Calendar может найти события и дни рождения из Facebook. Он также может добавить национальные праздники из большинства стран. Приложение Calendar также добавляет все события и приглашает вас получать по почте, если вы используете приложение Mail по умолчанию. Если у вас есть другие приложения, которые могут принимать приглашения на мероприятие, приложение «Календарь» может автоматически импортировать их. Приложение может работать с приложениями и почти всеми службами календаря, включая Календарь Google. Даже если вы никогда не добавляете свою учетную запись Gmail на свой iPhone, вы все равно можете синхронизировать Календарь Google с вашим приложением iPhone Calendar. Вот как.
Чтобы синхронизировать Календарь Google с вашим приложением iPhone Calendar, вам нужно сначала добавить свою учетную запись Google в приложение. Затем вам нужно выбрать, какие календари из Календаря Google вы хотите синхронизировать.
Добавить аккаунт Google
Откройте приложение «Настройки». Прокрутите вниз и коснитесь предпочтения приложения «Календарь». На экране «Календарь» коснитесь учетных записей. По умолчанию здесь будет отображаться iCloud, но есть опции для добавления большего количества учетных записей внутри.
На экране «Добавить учетные записи» нажмите Google и войдите в свою учетную запись Google. Вы можете добавить учетную запись Google, а также учетную запись Google Business и Google Education. Вы также можете добавить несколько учетных записей Google.
Синхронизация календаря Google
После входа в свою учетную запись Google вы можете выбрать, что вы хотите синхронизировать. iOS поддерживает синхронизацию для Mail, Contacts, Calendar и Notes. По умолчанию включена синхронизация для всех, кроме Notes. Если вы хотите синхронизировать Календарь Google в приложении iPhone Calendar, отключите синхронизацию для Mail и Contacts.
Выберите «Календари для синхронизации»
Подождите несколько минут, чтобы приложение «Календарь» выбрало все ваши календари. Сам Календар Google может синхронизировать другие календари, поэтому их возможно больше одного. Ваши контакты могли бы поделиться с вами календарем, или вы могли бы добавить общедоступный календарь в свою учетную запись.
Через несколько минут откройте приложение «Календарь». Нажмите «Календари» в нижней части экрана. Ваша учетная запись Google и все календари в ней будут перечислены здесь. Отмените выбор календаря, который вы не хотите синхронизировать. Оставьте те, которые вы хотите синхронизировать.
Если в аккаунт Google добавлено несколько календарей, рекомендуется сначала очистить их. Календарь Google, например, приложение «Календарь» в iOS, может синхронизировать множество других календарей. Если бы это был ваш календарь в течение долгого времени, скорее всего, у вас есть несколько календарей, синхронизированных с ним.
Если вы используете Google Calendar для отслеживания событий, вы можете добавить их в Google Maps тоже.
The Best Way to Sync Gmail Calendar with iPhone
Ivan Cook updated on 2021-10-12 20:53:39
Read on to learn about several issues you may face when syncing Gmail Calendar with iPhone as well as the best way to sync your Gmail Calendar.
Part 1: Common issues for Gmail Calendar not syncing with iPhone
These are the issues that may occur when you are setting up and using your Gmail Calendar to sync with your iPhone.
Problem 1: When setting up my iPhone to sync with my Gmail account prior to syncing the calendar, my login attempts fail due to an "Invalid Password" prompt. How do I get around this?
Solution 1: This issue is usually caused by a locked account, which can be fixed by solving a CAPTCHA. Go to Unlock CAPTCHA and fill in the account information and CAPTCHA fields to unlock your account.
Problem 2: I can't respond (Accept/Maybe/Decline) to events on secondary calendars on my iPhone. What do I do?
Solution 2: Unfortunately, it is a given that secondary calendar events with invites are set to read-only on iOS devices such as your iPhone so there isn't any workaround you can do on your iPhone. You can, however, respond using your computer and web browser by logging in to your Google account.
Problem 3: I wrote comments into the Add Comments field in the Accept/Maybe/Decline page but they weren't reflected in my Google/Gmail Calendar. How do I solve this?
Solution 3: It is also a known issue that comments written in that specific field won't be synced with your calendar. You'll have to add it manually to your calendar.
Problem 4: What do I do when I'm invited to a series of recurring events and choosing "Save for all events" after responding (Accept/Maybe/Decline), the change is reflected only in the one selected event?
Solution 4: This error may happen quite frequently when availing of the syncing features for Google/Gmail Calendar and your iPhone. The only known workaround for this issue is to manually setting your response for every event or instance of a recurring event. It may be a bit tedious, but it's the only known way to fix this problem as of now.
Problem 5: How do I handle duplicate events created when changes to my calendar are made across daylight savings time?
Solution 5: This problem occurs when you edit an instance of a certain recurring event after its first recurrence and select "Save for future events", your iPhone creates separate event series overlapping a day. To solve this, delete either of the two events or series of events. Keep one of them and you're done.
Part 2: The best way to sync Gmail Calendar with iPhone
The best way to sync Google/Gmail Calendar with iPhone is the instructions that Google itself has certified and provided, as long as you don't get bugged with some issues while setting the syncing up.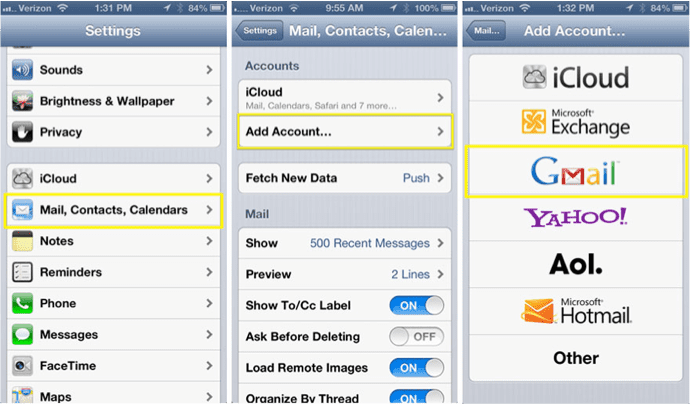 Step 1: On your iPhone, go to Settings, then to Mail, Contacts, Calendars. Tap Add Account and once you've been taken to the Add Account screen, select Google or Gmail.
Step 2: Input your name, Gmail address, and password to link your Gmail account to your iPhone. Note that if you're using Google's 2-step verification, you will want to use an app-specific password instead of the password you're using when logging in to Gmail.
Step 3: Now tap Next. At this point, your Gmail e-mails, contacts, reminders, and more importantly your calendar events will start syncing directly to your Google Account on the web. If you only want to sync your calendar, turn e-mails, contacts, and reminders off in the settings.
If you want to sync your shared calendars: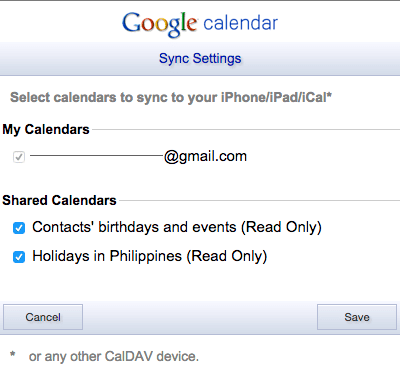 Step 1: Open your browser, either on your PC or on your iPhone and make sure you're logged in to your Google account.
Step 2: Visit Sync Settings page. The page will allow you to select which calendars to sync.
Step 3: Under Shared Calendars select the ones you want to sync with your iPhone and hit Save.
Step 4: Once you're done, refresh your iPhone Calendar list and your shared calendars should appear.
If you want to sync multiple calendars:
Step 1: On your iPhone, open your browser and head to https://m.google.com/sync/settings/. Set your language to English (US) to be able to sync multiple calendars.
Step 2: Tap Sync and log in with your Google/Gmail account and select your iPhone from the list of devices that you have synced with your account.
Step 3: Now choose the calendars you want to sync with your iPhone then tap Save.
Step 4: The calendars you have selected should now start syncing and you're good to go.
Notice that the process for syncing multiple and shared calendars is pretty much the same. The difference is just the matter of selecting which calendars to sync with your iPhone.
Product-related questions? Contact Our Support Team to Get Quick Solution >

How to Add Multiple Google Calendars to Your iPhone
As you know, calendar apps are essential for staying organized, managing your time, and helping you be as productive as possible. They're also helpful in remembering appointments and events. So here is how to add multiple Google calendars to your iPhone.
Fortunately, for iPhone users, you have two options; Apple's built-in calendar app and Google Calendar.
While both calendars are easily accessible and more than capable of getting the job done, Google Calendar is often considered the better of the two. That's because Google Calendar tends to be easier-to-use. It's also more customizable, flexible, and integrates with apps like Gmail and Hangouts.
Google Calendar is also more friendly when it comes to sharing. If you want to invite someone to an event, just attach their email address to your calendar. They can then view the invite — even if they don't have a G Suite account.
If that has convinced you to start using Google Calendar, then you need to make sure that you, as an iPhone user, are getting the most out of the app.
The first places to start is by knowing how to add Google Calendars to your iPhone. This way you can have specific calendars for work, your personal life, or a shared team calendar to keep you and your employees on the same page.
Creating a new Google Calendar.
You can only create a new Google Calendar from a browser. However, once it's been created it can be accessed on your mobile device. It's a little bit of an inconvenience. But it's not a complex process.
Hop onto your computer and open-up your Google Calendar. If you're new to Google, then this is done by logging into Gmail and locating Calendar under Google Apps.
After you've opened-up your Calendar, you can add a new Calendar by clicking Add other calendars > New calendar. This is on the left side of your screen and above "My calendars."
Now you can go ahead and give the new calendar a name and description.
When you're done, click Create calendar.
Congratulations! Your freshly made calendar has been created and is ready to use.
Sync multiple Google Calendars to your iPhone.
Even though you have multiple Google Calendars, you can now access them right from your iPhone. But, first, you have to sync Google Calendar with your iPhone.
The good news is that it only takes a couple of steps to sync your Google Calendars with your iPhone.
On your iPhone, head over to Settings > scroll down to Calendar. Tap Passwords and accounts > Add Account.
Tap Google and enter your Google account information.
Tap Next in the upper right corner of the screen. You should see sliders for Mail, Calendar, Contacts, and Notes. If you just want to sync Calendar, then slide the other apps to off.
Wait for the calendars to sync — this may take a couple of minutes depending on your internet speed and the size of your calendars.
Open the Calendar app.
At the bottom center, you'll see a Calendars icon. Tap that to view all of the Google Calendars that have been synced.
What's cool is that now if you add any information to your Apple Calendar, it will automatically flow back to your Google Calendar. If you have multiple Google accounts, you can add as many as you like to your iPhone. This is handy if you use one account for work and another for your personal life.
Managing multiple calendars.
While creating multiple calendars is a breeze, managing them isn't always as straightforward — especially when you just need to quickly glance at a specific calendar while on the go.
Give your calendars unique names.
This may sound obvious. But when creating a new calendar, give it a unique name. This way you immediately know which calendar you want to view. For example, you could have a work calendar that notes what you and your teams' schedules are. You could then create another calendar that features deadlines for a current project.
Color-code your calendars.
With Google Calendar you have the ability to pick whatever color you like to represent your calendar. Your work calendar could be blue, while social engagements are red.
To change the color of your calendar, tap the three dots next to the calendar you want to change. You can then select your preferred color for that calendar. You can also create a custom color if you want.
Customize notifications and views.
By default, you'll receive an email reminder 30-minutes prior to an event. However, you may want a 10-minute reminder before a phone call or a day notice before a meeting so that you can prepare.
Tap the three dots and select Settings and sharing. Scroll down until you see notifications and change them accordingly.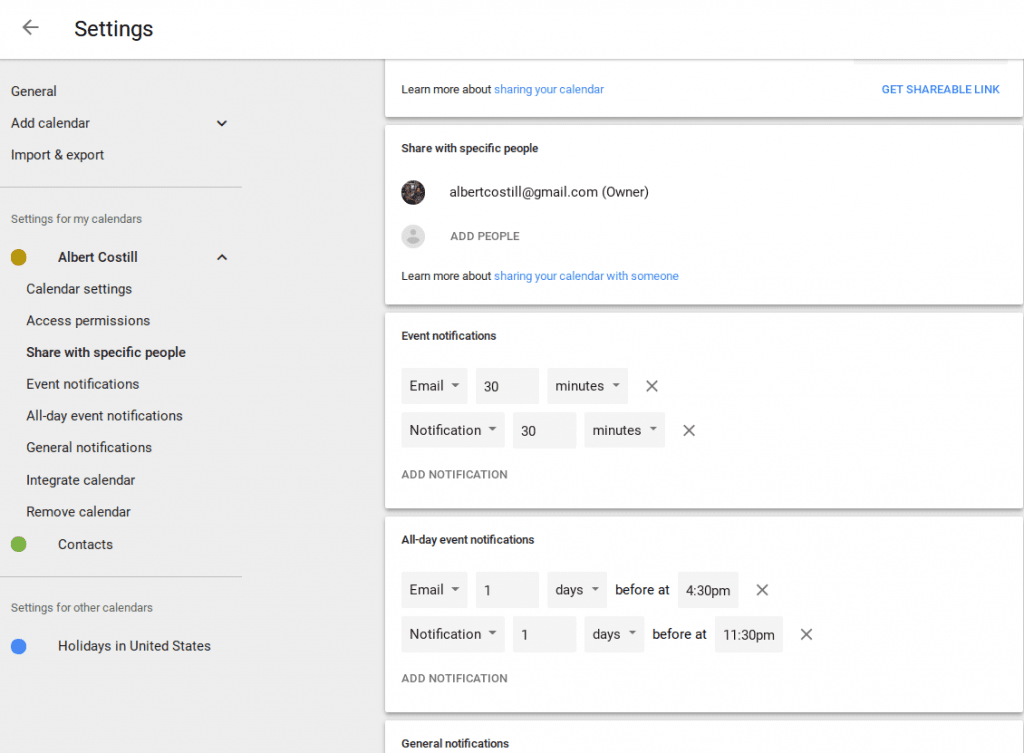 You can also change the view of the calendar from the day, week, month, year, schedule, or four days by clicking the menu at the top right corner of the calendar.
It's perfect when you need to quickly see how your day or week looks first thing in the morning. It's also useful for long-term planning.
Set an out of office entry and specific working hours.
A newer feature within Google Calendar is the ability to set specific working hours and an out of office entry. However, this can only be accessed if you have G Suite.
When you set this up, it will send out an automatic decline if someone invites you to an event during these off-hours. This way you don't have to constantly check to see your availability — or constantly respond to messages when you're home.
Share your calendars with the right people.
If you've created a family on Google, then a family calendar will be automatically created so that everyone in your home is aware of each other's schedules. At work, you could share your work schedule with co-workers so that they know when you are and aren't available.
You can share specific calendars with specific people by going into settings and tapping Add People. Your contacts will automatically appear. But, if you don't see them, just enter their email address.
Just remember to share the right calendar with the right people. I highly doubt your colleagues are interested in knowing your kid's soccer schedule.
How to Sync iPhone and iPad Calendars
If you use both iPhone and iPad, you'll want to sync the calendars between your devices. By doing so, you can always have the most relevant schedule at hand and never worry about missing an important meeting.
In this article, you'll learn how to sync your iPad and iPhone calendars in multiple ways. If you prefer using the iOS built-in calendar, you can sync an iPad calendar with iPhone using iCloud. If you also rely on Google or Outlook calendars and want to keep all your events up to date across devices, we'll show you how to do it with Calendars by Readdle.
Calendars is a beautiful calendar and planner app that lets you keep all your calendars at hand. Millions of people worldwide use it to organize their lives and become more productive. Download Calendars for free, and let's get started!
How to Sync iPhone and iPad calendars via iCloud
To sync the calendars across your devices, make sure you're signed into the iCloud with the same Apple ID on both your iPhone and iPad.
Open the Settings app.
Tap your name at the top and choose iCloud. If you use iOS 10.2 or earlier, tap Settings > iCloud.
Enable the Calendars toggle. Make sure it's enabled on both iPhone and iPad you want to sync.
Now you can access the same events in the stock Calendar app on both your devices.
Do you need a more advanced yet easy-to-use app, with the natural language input and task manager? Then, you can try Calendars by Readdle. Here's how to sync it with your iCloud calendar:
.
On the intro screen, turn on iPhone Local Calendar. If you wish to also add your other calendars like Google or Outlook, you can do it right there!
Repeat the same steps on your second device. All your events are now synced between your iPhone and iPad.
How to sync iPad and iPhone calendars using Calendars by Readdle
As seen above, it's pretty straightforward to sync iPhone and iPad calendars if you use only an iCloud calendar. But if you also rely on a Google or Outlook calendar (or both of them!), things get more complicated. That's where Calendars comes in handy. It lets you connect multiple Google, Outlook, and iCloud calendars in just a few taps, so you can keep all your tasks and events in one place. Then, add the same accounts on your second device, and voila! All your calendars are in sync between iPhone and iPad.
Here's how to connect your calendars to Calendars by Readdle:
if you haven't done so yet.
After launching the app for the first time, turn on iPhone Local Calendar.
Under Add more, select any other calendar you'd like to use. This may be a Google, Outlook, or iCloud calendar.
Sign in with your credentials.
That's all! Now you can view all the calendars you've connected. Repeat the same procedure on your iPad, and all your calendars are synced.
You can always connect more calendar accounts to Calendars. Just follow these steps:
Open Calendars.
Tap the menu icon at the top left or just swipe from left to right side of the screen.
Tap Settings.
Select Add Account.
Pick an account you'd like to connect.
Calendars by Readdle is a perfect app to sync iPhone and iPad calendars for you. It provides a smooth and effortless way to work with all your calendars in a single place. You can quickly show or hide different calendars with a few taps to always see the most relevant events.