How to Sync Outlook Calendar with Google Calendar
How to Sync Outlook Calendar with Google Calendar
If you want to use calendars from Outlook and Google together, you'll need to import them. Here's how.
Staying organized isn't easy. If you're trying to keep on top of a busy schedule, then you may already be using a calendar app like Outlook or Google Calendar to keep on top of things.
You may even be using more than one app to keep your life together: Google Calendar for your personal life, Outlook for your work commitments. If that's the case, you may want to combine the two and view all of your events in one place.
While it's possible to sync Outlook calendars with Google Calendar, the process isn't entirely simple. Here's what you'll need to do.
How to Import a Google Calendar into Outlook
If you're looking to view your Google Calendar events in Outlook, you'll need to subscribe to that calendar in Outlook first. So you'll need to start by opening the Google Calendar that you want to add to Outlook.
In the left-hand menu, hover over the calendar you want to export and click the three dots menu icon next to it.
Click on Settings and sharing in the options list that appears.
This will open your Google Calendar options menu. In the menu on the left, click the Integrate calendar option.
Select and copy the URL that appears under Secret address in iCal format. This is the URL that Outlook needs to import your Google Calendar.
With the secret iCal calendar address saved in your clipboard, open Outlook and press the calendar icon to access your calendar.
In your Outlook calendar, press the Add calendar option to add an external calendar.
Select Subscribe from the web from the left-hand menu.
Paste the URL you copied from your Google Calendar into the box provided. Give your calendar a name, color, and icon, then click Import to import it into Outlook.
If the process is successful, you should now view your Google Calendar events and alerts in Outlook. Any new events you add to your Google Calendar will also appear in Outlook, but they may take a bit of time to sync across.
However, if you create a new event in Outlook, this won't sync across to Google Calendar. Unfortunately, the process only works in one direction using this method.
How to Import an Outlook Calendar into Google
It's also possible to do things the other way and import your Outlook calendar into Google Calendar. If you want to do this, sign in to your Outlook account first.
From the menu bar at the top, press the Settings cog icon.
Click the View all Outlook settings option at the very bottom of the menu.
In your Outlook settings menu, press the Calendar tab, then click on the Shared calendars option.
In the Publish a calendar section, click on Select a calendar, then select the calendar you want to sync.
Set permissions to Can view all details, then click the Publish button.
Your Outlook calendar will now be public, allowing you to export it into Google Calendar.
To do this, click on the ICS link, then press the Copy link to copy it to your clipboard.
You're now ready to import your Outlook calendar into Google Calendar, so open Google Calendar to begin.
In the left-hand menu, press the plus (+) icon next to the Other calendars option.
Select From URL from the menu list that appears.
Paste in your Outlook link in the URL of calendar box, then click Add calendar to add the calendar to your inbox.
If the process is a success, you should now view your Outlook events and notifications in Google Calendar.
Any new events created in Outlook will sync to Google Calendar, although expect a delay for this to sync across. As with the Google Calendar-to-Outlook method, this is only one way, as events created in Google Calendar won't sync across to Outlook.
Two-Way Calendar Syncing
If you want to have two-way sync (allowing you to create events on either platform that syncs to both), your only option is to use a third-party app.
Many of these will cost a premium, but open-source options like Outlook Google Calendar Sync for PC are available that will allow you to keep events synced across both platforms.
If you are subscribed to G Suite, you can also use its free tool called G Suite Sync for Microsoft Outlook (GSSMO).
If your goal is to see events from both Outlook and Google Calendars in one place, then a simple workaround is to use your smartphone. You can add multiple calendars to the default Calendar app on iPhone, allowing you to see and create events for both Google Calendar and Outlook.
On Android, the free Microsoft Outlook app will let link to another account, including Google accounts. Either of these methods will give you a simple way to view all of your events in one app.
Staying Organized with Outlook and Google Calendars
Syncing your Outlook and Google Calendars isn't as simple as you might expect it to be. By following one of the methods above, however, you should be able to see your events from both Google and Outlook on one calendar, ensuring that you don't double-book yourself.
Which calendar you choose to use as your default really depends on personal preference. Both have excellent features, such as the ability to set up out-of-office mode, create shared calendars with other users, and reschedule meetings on the fly.
How To Sync Google Calendar With Outlook Easily
Imagine having a calendar that contains all your appointments, reminders, and meetings. It would make knowing your schedule and managing your time a lot easier and more convenient.
Having one calendar that shows all one's engagements prevents double-booking and missed meetings.
Many people use Google and Microsoft Office applications. Likely they wonder if they can sync Microsoft Outlook with Google Calendar.
Well, here's the good news: yes, it is possible to sync them, and it's very simple to do. The following information shows how to sync Google calendar with Outlook.
Syncing Google Calendar With Outlook
There are various ways to sync Google Calendar with Outlook. The method depends on the platform used.
Google Calendar and Microsoft Outlook are well integrated with each other. Users can import a calendar from Google to Outlook or from Outlook to Google.
Google Apps is a free suite of web-based applications and tools. They are useful for messaging, collaboration, and productivity.
Popular apps include Gmail, Google Drive, Google Calendar, Google Docs, and more.
Google Workspace, formerly G Suite, is a premium version of Google Apps. It has been rebranded and designed for businesses.
Google Workspace still consists of Google Calendar and other Google applications. But unlike Google Apps, the bundle includes email hosting and other premium features.
Whether one uses Google Apps or Google Workspace, Google Calendar is a simple and effective calendar for personal and business needs.
Outlook is part of the Microsoft Office suite. Other popular Office applications are Microsoft Word, Excel, PowerPoint, and more.
Microsoft Outlook is a messaging and task management application with a calendar feature.
Both applications enable users to view and manage their calendars on one platform. A clear view of their schedule makes it easier to organize meetings and appointments.
Importing a Google Calendar into Outlook
Importing Google calendar events into Outlook is very simple.
Go to Google Calendar. Choose a calendar on either 'My calendars' or 'Other calendars' at the left-side column.
Hover over a calendar to import to Outlook and click the three vertical dots. If adding multiple calendars, repeat this step for each one.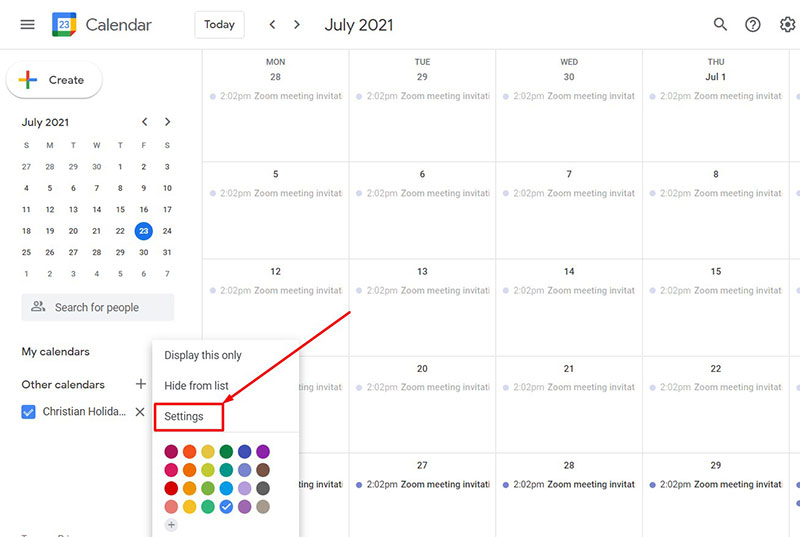 Click 'Settings and sharing'. Go to the 'Integrate Calendar' heading at the left-side column.
Look for the link under the 'Secret Address in iCal format' and copy it by clicking the 'Copy to clipboard' This link keeps Google Calendar events private.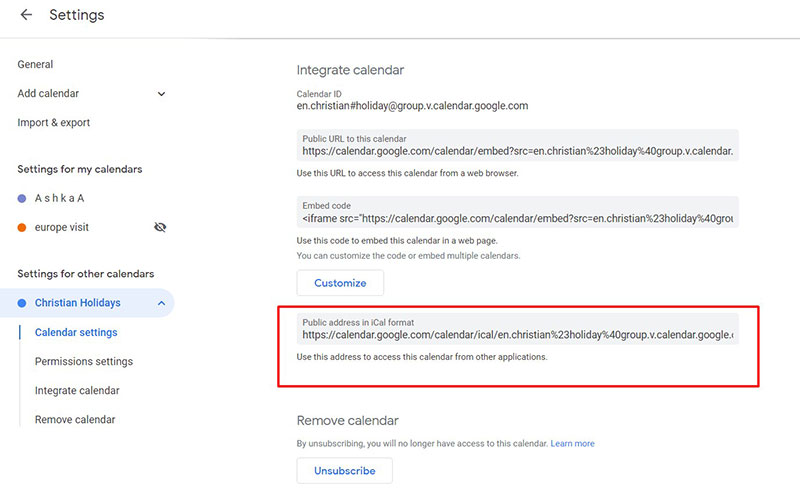 Go to Outlook.com and log in to your account. After logging on, click the calendar icon in the left sidebar.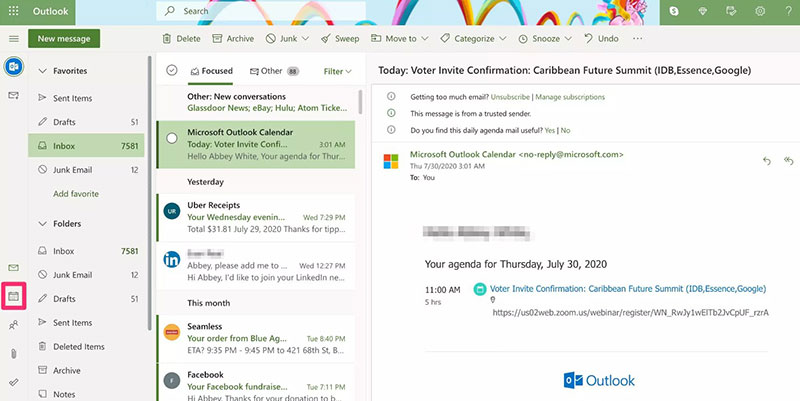 Click the 'Add calendar' option on the left-side column then select 'Subscribe from the web'.
Paste the link you copied under the 'Secret address in iCal format'.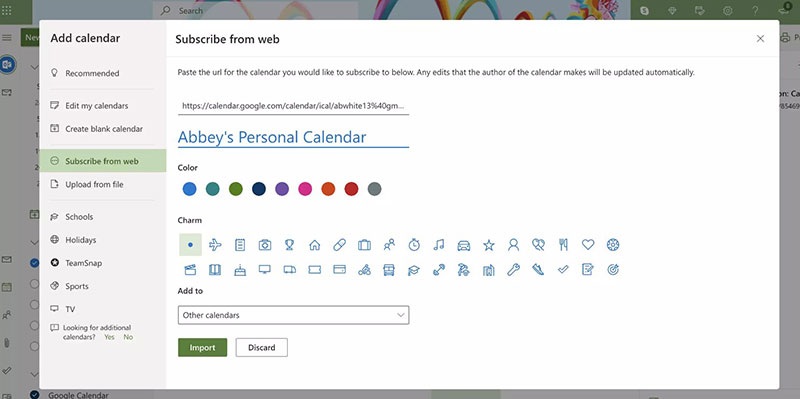 Create a title for the calendar and click 'Import'. Outlook calendar should now show your Google Calendar events.
Refresh the page to download the latest emails and calendar updates. This will keep the Outlook calendar up-to-date with the Google Calendar.
Importing an Outlook Calendar into Google
It is also simple to import Outlook calendars into a Google account.
The steps are a little bit different depending on the kind of Outlook application used. It may be the one installed on a device by default, or the one from Office 365.
Using Outlook installed on a device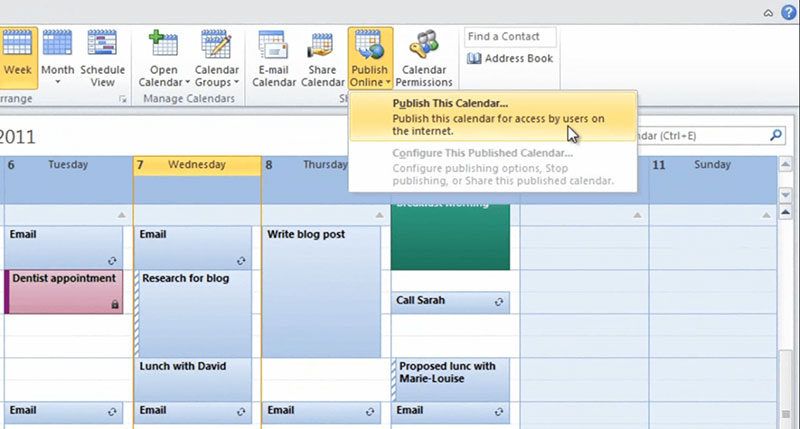 Open the Microsoft Outlook desktop app and log in to your account.
Check the calendar to import at the left-side column. Then click 'Publish This Calendar' in the top ribbon.
Log in to Outlook Web Access once it opens in the browser.
An OWA page will open. Select the calendar to import and change the setting to 'Public'.
Click 'Save' to save changes.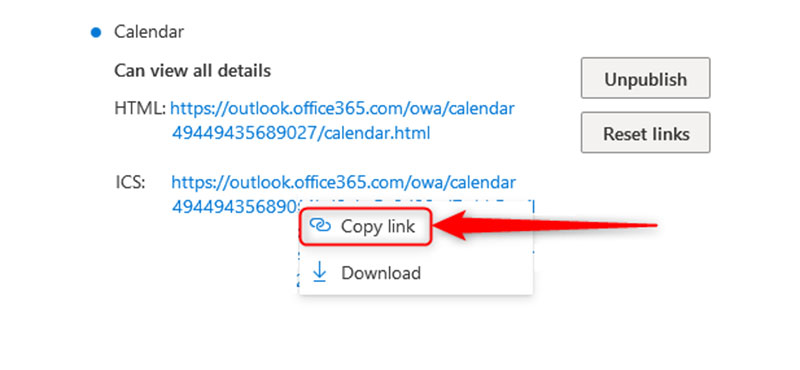 Two links will appear after saving the settings: the HTML link and the ICS link. Copy the ICS one.
In the browser, open Google Calendar.
Go to 'Other calendars' at the left-side column and click the '+' icon beside it.
Select the 'From URL'Paste the copied ICS URL into the 'URL of calendar' box.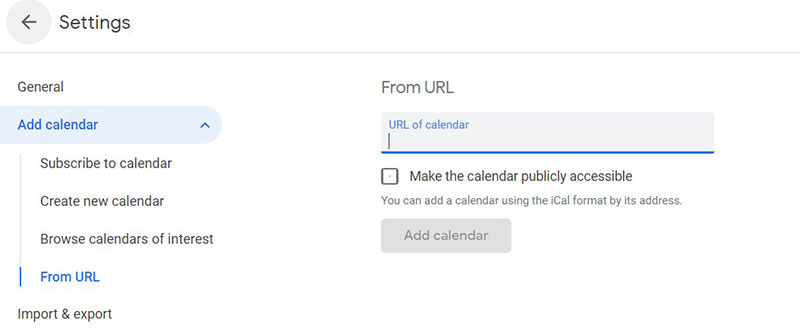 Google Calendar should now show your Outlook calendars. It will regularly update the calendar along with the email.
Using Outlook from Office 365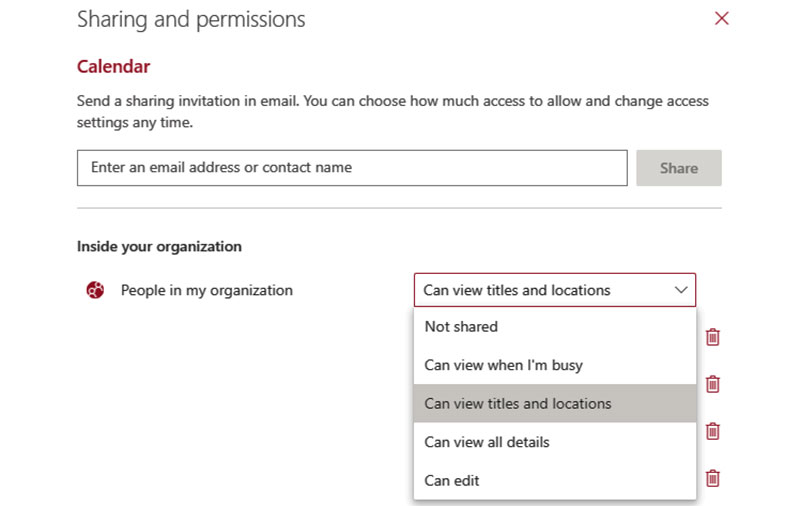 Open your Outlook calendar in Office 365, then click the 'Share' button.
Under the 'Sharing and Permissions' pop-up window, enter your Gmail address. Select how much access to allow other people on the drop-down list.
Choose between 'Can view all details' and 'Can edit' on the sharing options then click the 'Share' button.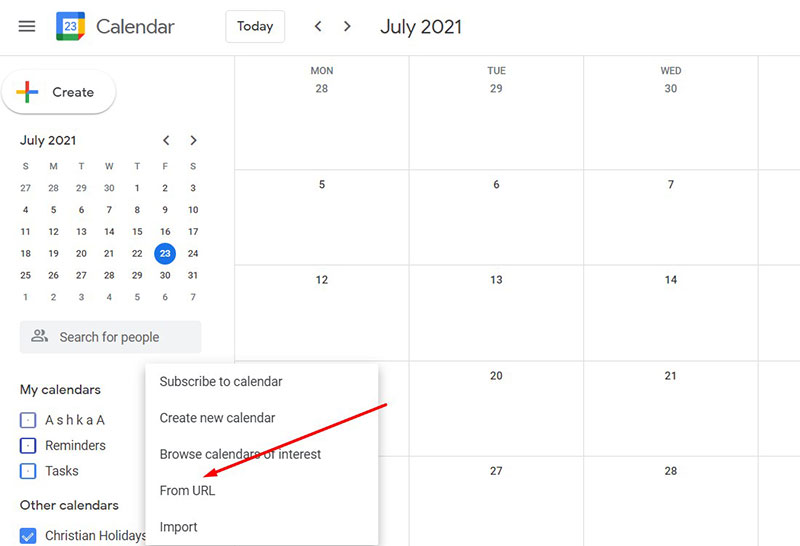 Go to your Gmail inbox and open the mail.
Copy the link with 'reachcalendar.ics' then proceed to the Google calendar.
Go to 'Other calendars' at the left-side column and click the '+' icon beside it.
Select the 'From URL' option and paste the copied URL into 'URL of calendar'.
Click 'Add calendar'.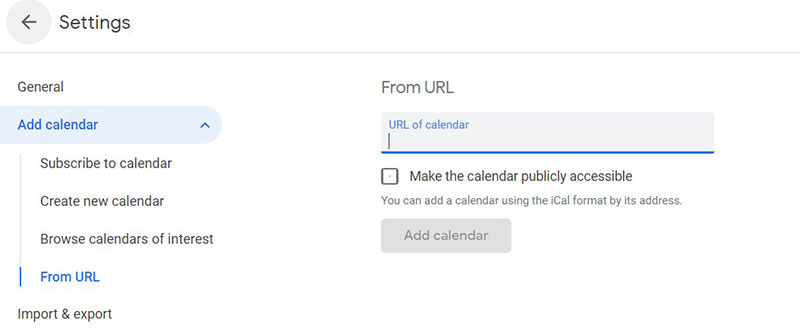 Google Calendar will now show your Outlook calendars. It will regularly update the calendar along with the email.
Modifying the sharing settings depends on where you use the calendar. If it is for personal use at home, changing the permission is quite easy.
However, if it is for work, it's necessary first to consult with the IT team there. They can help to modify the permission and sharing setting.
Syncing calendars makes it easier to manage multiple applications and stay organized.
Syncing Using Invitations
Another way of adding events from Google Calendar into Outlook calendar and vice-versa is to use invitations.
Inviting via Google Calendar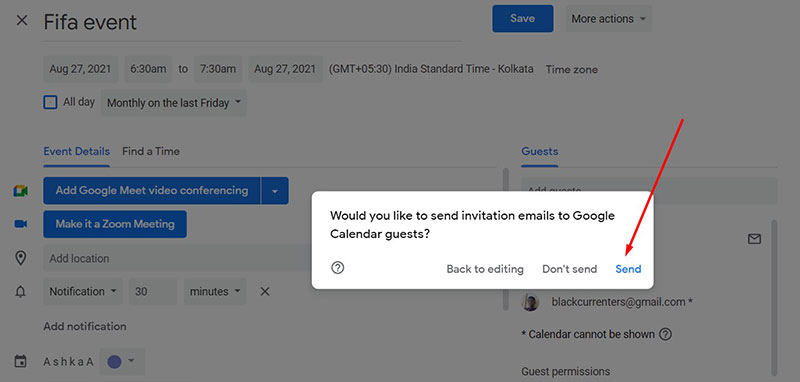 Open Google Calendar and click 'Create' to create an event. Fill in the necessary details.
Enter your Outlook orcom email address in 'Add guests' then click 'Save'.
A prompt will appear asking to send invitation emails to Google Calendar guests. Click 'Send'.
Go to your Outlook inbox and open the invitation mail.
To accept the invitation, click the RSVP button then the check button. Outlook does not add invitations automatically so one has to accept them manually.
Inviting via Outlook
The process for sending invitations from Outlook is quite similar to Google. But there are a few differences.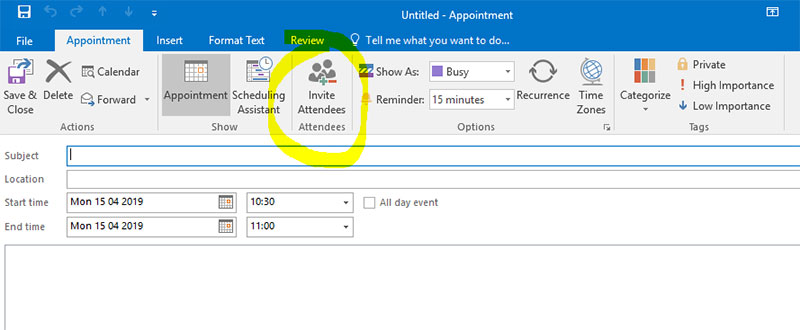 Open your Outlook calendar.
Click 'New event' then 'More options'. Fill in the necessary details.
To add guests, enter your Gmail address in 'Invite attendees'.
Click 'Save' to send the invitation.
Go to your Gmail inbox.
It's possible to accept the invitation manually in the mail. But one can also modify settings to automatically add invitations.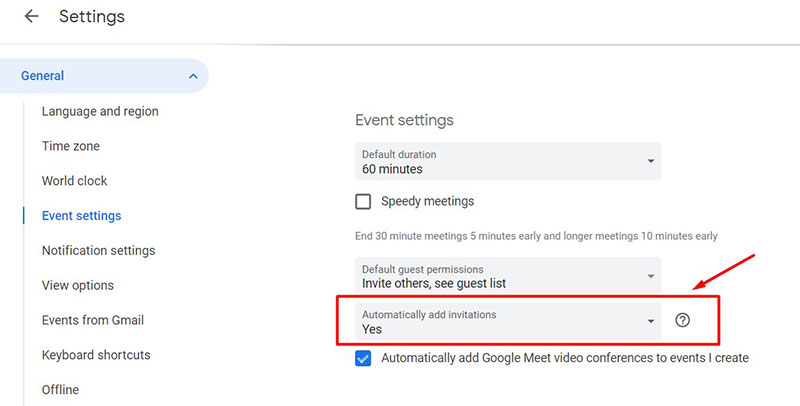 To do this, open 'Settings' on Google Calendar by clicking the cog icon.
Click the 'General' section on the left-side column and scroll down to 'Event settings'.
On the 'Automatically add invitations' drop-down list, select 'Yes'.
Syncing Using Third-Party Tools
Another way to sync Outlook and Google calendars is by using a third-party tool. There is an array of free and premium tools available online for automatic syncing.
Google offers Google Workspace Sync for Microsoft® Outlook® for those using Google Workspace. This tool not only syncs calendars but contacts and emails as well.
There are other tools for Cloud synchronization services such as:
How to Sync Google Calendar With Outlook
You would think, by now, that Microsoft Outlook for Windows could sync with Google Calendar. For one thing, Google Calendar is the most popular online calendar in the world. For another, the macOS and mobile versions of Outlook already offer Google Calendar syncing.
Outlook for Windows, however, is another matter: Syncing isn't offered out-of-the-box. But it is possible. In this article we'll go over a few options:
Sync Google Calendar with Outlook using G Suite Sync. This method only works for paid G Suite accounts.
Subscribe to any Google Calendar in Outlook. This method offers a one-way subscription, meaning you can't add or edit Google Calendar appointments from inside Outlook.
Sync Google Calendar and Outlook events using Zapier. This method adds every new Google Calendar appointment directly to Outlook. You can also do this the other way around, adding new Outlook appointments to Google Calendar.
This tutorial is primarily geared toward Outlook for Windows. Why? Because Outlook for Android, macOS, iPhone, and iPad can all natively sync with Google Calendar. Just add your Google account to Outlook and you'll have two-way syncing for all of your calendars, along with your email, tasks, and contacts. (Why doesn't Outlook for Windows work this way? Great question. I wish I had an answer.)
Sync Google Calendar with Outlook Using G Suite Sync
Google offers a syncing tool for Microsoft Outlook for Windows, called G Suite Sync for Microsoft Outlook. This tool makes it easy to sync Gmail, Google Contacts, and Google Calendar with Outlook. But there's a catch: It's only available for paid G Suite users. This means you can't use it to sync with a free Google account (skip to the next section if that's you).
If you're a paid G Suite user, however, you can download G Suite Sync and install it on your PC. Close Outlook before installing. Eventually, you will be asked to sign in to your Google account.
Do that and you'll be prompted to give the application permission to access your data. After that, the application is installed and you can configure a few settings.
Enable the Import data from an existing profile option if you have email, contacts, and calendar appointments in Outlook that you'd like to move over to your Google account. Click Create profile once everything is configured to your liking, and the application will start running in the background.
Open Outlook, and you will see a progress window, which shows you the syncing process.
You can close this window without stopping the sync process. Head to the Calendar section in Outlook, and you should see you Google calendars there. (Note that appointments might take a while to sync over.)
You now have a true two-way sync set up between Google Calendar and Microsoft Outlook. Every new appointment added to Google Calendar will show up here, and every appointment you add to a relevant calendar in Outlook will show up in Google Calendar.
Subscribe to a Single Google Calendar in Outlook (Read Only)
The above tool doesn't work if you're using a free Google account, but that doesn't mean you can't see your Google Calendar appointments in Outlook. It just means you'll need to do a little more work settings things up, and you won't be able to add or edit events to Google Calendar from inside Outlook.
To get started, open Google Calendar. In the sidebar, hover over the calendar you'd like to add to Outlook. Three vertical dots will appear.
Click these dots, then click Settings and Sharing.
The settings for your calendar will open. Scroll down to the Integrate calendar section and you'll see the Secret address in iCal format.
Copy this URL. Next, open Outlook and head to the Calendar section. Click Open Calendar > From Internet.
A window will open.
Paste the URL you copied earlier, then click OK. Your calendar will now show up in Outlook.
Want to add multiple calendars? Repeat the above steps for every calendar you'd like to add.
Remember: this is a read-only integration. Any appointments you add in Google Calendar will show up in Outlook, but you cannot add or edit your appointments in Outlook.
Add Google Calendar Events to Outlook (and Vice Versa) Using Zapier
Neither of the above approaches is perfect. The first only works if you have a paid G Suite account. The second amounts to a one-way subscription, which lets you see appointments from Google Calendar but not edit them.
There's a third way you can sync over appointments, however, and that's using Zapier. We offer integrations that connect thousands of apps, including Google Calendar and Microsoft Outlook. You could, for example, add every new appointment from a Google Calendar to an Outlook calendar. Here's a quick way to do just that:
This is great if you just want your Google Calendar appointments to show up in one of your Outlook calendars. You can set up as many integrations as you want, pulling in appointments from multiple calendars. You will be able to edit appointments after they make the jump over to Outlook, though you should note that changes made in Outlook won't be reflected in Google Calendar.
You can also do this the other way around, if you want, allowing you to copy all new events from an Outlook calendar to Google Calendar:
Once this is set up, you won't have to think about it: Your appointments will be sent over in the background without you having to do anything. And these are a just a couple examples of what you can set up. You can build your own integrations that work however you like, including filtering for certain event types; click here to get started.
Get productivity tips delivered straight to your inbox
We'll email you 1/wk, and never share your information.
Justin Pot is a staff writer at Zapier based in Hillsboro, Oregon. He loves technology, people, and nature, not necessarily in that order. You can follow Justin on Twitter: @jhpot. You don't have to. But you can.
How to Sync Google Calendar with Outlook
By Jim Martin, Editor
| 08 Jul 2020
Life would be so much easier if you only had one calendar with all your appointments and meetings. You'd be able to see your free time easily, and so would anyone else who has access to your schedule and wants to book in time with you. Double-booked and missed meetings simply wouldn't happen.
Unfortunately, the reality is that you probably have several calendars and — since you're reading this — both Google and Microsoft calendars that won't talk to each other.
It's for this reason that calendar sync tools exist and there are a lot of them. Here we'll outline all the options you have, including workarounds as well as the best tools we've found for getting the job done.
The best one for you will depend upon exactly what you need to happen and how much you're willing to spend.
Can I sync Google and Outlook calendars?
First ask yourself if you really need to sync Google and Outlook calendars. You might think you do, but there are several alternative approaches which might solve your problem.
For example, if you have an iPhone or Android phone you should be able to add multiple accounts and therefore multiple calendars.
This approach usually means that Google and Outlook calendars appear together in the same app. This isn't syncing, but it does mean you can see two or more calendars in the same app and same view.
If you're using a PC or laptop with the Outlook application in Windows, it could be time to ditch it and move to the online version, Outlook.com, which supports multiple calendars.
There are several other advantages of using an online email / calendar service: you can log on from any computer with an internet connection, and you don't have any syncing issues as everything is stored online.
Just be aware of the drawbacks of these approaches. The main one is that, in a business environment anyone checking to see if you're available at a certain time won't see all your calendars: they'll only see, say, the Microsoft or Google one you use for work. That's where proper syncing becomes important.
Best tools & apps to sync Outlook and Google Calendars
If you don't want to use any of our workarounds below, you can use an app or service that syncs Google and Outlook calendars. Some are free, but may have limitations which prove to be deal breakers. However, because they're free, you can at least try them out to see if they are good enough.
SyncGene
SyncGene can sync contacts, calendars and tasks automatically across iPhone, Android, Outlook, Gmail and apps. There is a free version which is limited to two data sources and does not offer automatic syncing, but a paid-for subscription works out at $4.95 per month. If you do subscribe, bear in mind there's a 14-day refund policy, so ensure you're happy before that time is up.
CalendarBridge
CalendarBridge is a new online service which can not only sync up to 10 of your Microsoft and Google calendars, but also offers some very useful options. One is that you can choose to sync only your busy or free times, which you can ensure personal events aren't synced to your work calendar. You can also choose not to display the information about events synced from another calendar, so it will only show the time as busy.
Because all the syncing happens in the cloud, it doesn't matter whether you're using Windows 10, macOS, iOS or Android, nor which calendar app you choose to use. Everything is supported, so long as it can view an Outlook or Google Calendar.
The service doesn't see or store your Google or Microsoft logins and works directly on servers in the cloud, so your synced calendars are viewable and available on any of your devices. It costs $4 per month, but this is a 50 percent discount off the usual $8 per month per user. There's also a useful seven-day trial which doesn't ask for credit card details.
Sync2
Sync2 (image below) syncs Outlook with Google Calendar and does a lot more besides for $59.95 per year (discounts are available). It can sync on a schedule or whenever a change in Outlook is detected.
Other options
OggSync does a similar job and is now on version 10, and costs $29.95 a year per user.
gSyncit v5 is a $19.99 Outlook add-in that enables one and two-way syncing between Outlook and Google calendar and is highly recommended by those who use it.
Yet another option is Scand Outlook4Gmail which syncs your Outlook calendar with your Google calendar. It can also sync contacts and a single licence costs $28.98.
Free apps to sync Google and Outlook calendars
Calendar Sync appears to be the perfect replacement for the old Google sync tool for Outlook users. Note, though, that the free version will only sync events within 30 days of the sync date, so if you need to sync recurring events, you need Calendar Sync Pro which costs $9.99.
Some people like Calendar Sync, while others say it causes problems.
Another option is Outlook Google Calendar Sync, which is free and regularly updated. It can sync events including attendees and reminders. It doesn't have to be installed and works behind web proxies. It's certainly worth a try.
Just use just one calendar
This might not be an option for you if you have work and personal calendars which must be on different platforms, but it's worth considering if you can manage but using only one calendar, if at all possible. It's useful to use multiple email providers, but when it comes to your calendar, why not just pick one and use just that?
It simplifies scheduling appointments and events and solves the sync problem instantly. Both Google and Microsoft support multiple calendars, such as work and personal, and offer single calendar or combined views. (This applies whether you're using a mobile device or a PC or laptop, by the way.)
When adding a new event, you can choose which calendar to add it to. This is the only complication, as it's all too easy to add an event to the wrong calendar. But at least you'll have no problems with syncing.
If this sounds like a good idea, you might want to export the data from one calendar to another rather than manually replicate existing events and appointments. Here's how.
How to import & export Google calendars
To export events from Google Calendar you'll need to use the web version on a PC or Mac.
Click the cog icon at the top-right of the interface and then click Settings.
Now click on the relevant calendar in the Settings for my calendars section on the left. On the right you should see a button marked Export calendar. It downloads as a zip, so copy the .ics file out.
An alternative method is to click the three dots to the right of one of your calendars, then click Settings and sharing. This takes you to the same screen with the Export option.
On the same Settings screen, you'll notice an Import & export option (arrowed below). Click this and you'll find the options to import a calendar as well as another button to export all your calendars in one go.
How to import & export Outlook calendars
To import Google Calendar into the Outlook Windows application, go to File>Open and export>Import and export. Select the option to import an iCalendar (.ics) file.
To export your Outlook calendar (from the Outlook application), go to File>Open and export>Import and export. Select Export to a file and save it to a .csv file.
How to import a calendar using Outlook.com
If you use the Calendar section of Outlook.com, you can't export, but you can import.
To do that, click Add calendar then choose From file in the menu and navigate to your Google Calendar .ics file to import it.
How to view Outlook and Google calendars together
Android
On an Android phone or tablet, install the free Microsoft Outlook app from the Google Play Store. (You can't simply add a Microsoft or Outlook account in the Android 'add account' setting, unfortunately. You can try adding an Exchange account, but it doesn't work with all Microsoft accounts.)
When you first install it on your phone a message pops asking you if you want to link it to other account, including Gmail. Choose this, and your calendars are synced.
iPhone & iPad
The Calendar app on an iPhone and iPad can display a combined Google Calendar and Outlook Calendar too. Go to Settings, Mail, Contacts, Calendars and tap Add Account.
Use the options to add Google and Outlook.com accounts. Accept the offer to sync calendars and that's it. Events added to Google Calendar, Outlook.com Calendar or Outlook if it's synced with Outlook.com, automatically appear in the iOS Calendar app.
Use invitations
One way to make an appointment appear in both Google and Outlook calendars simultaneously is to simply invite yourself by entering your email address when creating a new event. You basically create a meeting with yourself, so in Google Calendar you would invite yourself by adding your Outlook or Outlook.com email address.
Outlook adds a calendar invitation from Google as an unconfirmed event. You can leave it like this or click the Accept button in the email to confirm it. Outlook.com does not automatically add invitations to the calendar and you have to click Accept in the email.
You can manually accept emailed invitations sent from Outlook/Outlook.com to Google Calendar in Gmail, but there is a better way. Click the cog icon in Google Calendar and click Settings. Click General at the top of the left-hand column and scroll down until you see the Event settings section.
In these is an option to Automatically add invitations. Use the drop-down menu to choose Yes.
Note: We may earn a commission when you buy through links on our site, at no extra cost to you. This doesn't affect our editorial independence. Learn more.
Get breaking news, the latest reviews and soon-to-sell-out deals
Author: Jim Martin, Editor
Jim has been testing and reviewing products for over 20 years. His main beats include VPN services, antivirus and web hosting. He also covers electric bikes, dash cams and smart home tech.